Weisenburger and Schweigert Families
Submitted by Karen (Weisenburger) Abel, April 20, 2011
I am half German-Russian, on my father's side.  My father and his siblings were first generation Americans. 
My grandfather, Philipp Weisenburger, was born in Wilhelmstal and came to America on his own in 1904.  He arrived at Ellis Island with just $2 and, judging by the photo taken of him in Springfield, Ohio, he probably worked his way from New York to his new home in Eureka, South Dakota. 
Philipp Weisenburger is shown on the right in Springfield, Ohio circa 1905.
The only other of his siblings who tried to come to America from Russia was his brother, Jakob Weisenburger.  Jakob and his family arrived at Ellis Island in 1909, but they were detained because his wife and one child had trachoma (an eye infection).  Because of this, the family was deported back to Russia on the same ship.  My uncle recalled that his parents used to send packages to family in Russia, until they no longer heard from them.  These packages were most likely going to members of the Weisenburger family.
My grandmother, Friedricka (Frieda) Schweigert, was born in Neu Rohrbach and came to America with her parents and siblings in 1906.  They also settled in Eureka, South Dakota, where Frieda's uncle, Johann Harr, lived. 
My great-grandparents, Jakob and Katharina (Harr) Schweigert shown below.
Philipp and Frieda were married in Eureka in 1907 and homesteaded in McIntosh County, North Dakota, later that same year.  Their homestead land was unsuitable and the family moved to Bismarck in 1914. 

Philipp Weisenburger and Friedricka Schweigert shown above on their wedding day, 1907.

The family of Jakob and Katharina (Harr) Schweigert, with Philipp and Frieda (Schweigert) Weisenburger on the top right, taken about 1907.
My father, John Weisenburger shown here in 1932, was born and raised in Bismarck, ND.  Frieda's parents, Jakob and Katharina Harr Schweigert, also homesteaded in McIntosh County and then moved to Bismarck.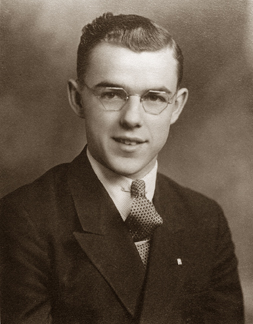 The Weisenburger and Schweigert ancestors were from both the Grossliebental and the Beresan districts in the Odessa region.  The Weisenburgers were among those first arriving in Grossliebental in 1804, while the Schweigerts did not arrive in Russia until 1830.
Both the Weisenburger and Schweigert ancestries have been traced back to southwestern Germany, many into the mid 1500s and a few even earlier.  Three of the family lines, Pfaff, Hussong and Schatz, had immigrated to Hungary in the mid 1780s before going on to Russia.  The family stories are varied and fascinating.
My father, John Weisenburger, shown below on the left, with his remaining siblings (George, Marcella, Harry, and Arthur), taken in 1968.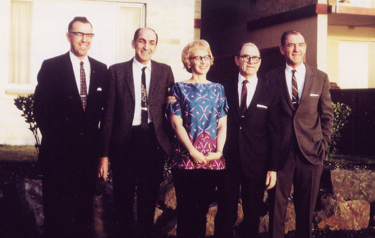 These last two photos are of a couple of my very early ancestors. It's wonderful to have found such early images. And it shows what persistent research can unearth in one's family tree. It was great to discover a few famous Germans in my early heritage – someone other than the usual farmers, butchers, vine dressers, and day laborers.
Nicodemus Frischlin – My 11th great-grandfather, Nicodemus Frischlin, a poet, dramatist and philologist, who received his master's degree from the University of Tübingen. He was imprisoned for certain libelous letters and was killed in a fall while trying to escape from his prison cell in 1590.
Philipp Schickhard – My 10th great-grandfather, Philipp Schickhard shown right, received his master's degree from the University of Tübingen and became a pastor.
GDO Families researched by Karen (Weisenburger) Abel:
Weisenburger (Grossliebental, Peterstal, Wilhelmstal); Vollmer (Grossliebental); Hussong/Hissong (Peterstal); Theurer (Peterstal); Harr (various GDO villages); Schatz (Freudental, Neu Freudental); Pfaff (Freudental)
BDO Families researched by Karen (Weisenburger) Abel:
Schweigert (Worms, Neu Rohrbach); Stoller (Rohrbach); Huber (Rohrbach)

*Special thanks to Karen Abel for sharing her German-Russian family history and photographs.